Thank you for visiting PUMP climbing gym. Climbing can be dangerous sport,
and we ask that you take special care to avoid injury or accident while using this facility.
This guide is a list of important points that we require you to observe while climbing at PUMP,
and we sincerely ask that you take the time to read this guide before climbing. Please observe these rules each time you visit.

Children's usage time
Customers of junior high school age or under must be accompanied by a parent or regal guardian (Where the customer has more than 1year of climbing experience, this requirement may be waived provided a test is passed). Gym usage times for young members differ from those of general customers. Please inquire at the front-desk for further details. And also check this page about children usage.
Important points
1.Children younger than elementary school age who are not climbing may not enter our facility due to risk of injury or accident.
2.Entry after the consumption of alcohol or dangerous drugs is prohibited.
3.For customers with health concerns, please stop climbing immediately if your condition worsens.
4.Please refrain from climbing shirtless or without climbing shoes.(Illustration A)
5.To maintain air quality in the gym, we ask that all customers use chalk ball(no loose chalk).
6.If you are a smoker, please use designated smoking area.
7.Customers who ignore warnings or cautions from gym staff may be asked to leave.
Before climbing
1.Customers with long nails risk nail damage. Please use the nail clippers provided (ask staff at the front desk).
2.There is a danger of long hair becoming tangled in ropes and equipment. Please ensure long hair is tied back(Illustration B)
3.Rings and watch may be damaged, or may cause injury. Please remove these items before climbing. Please place valuables in the lockers provided. PUMP accepts no responsibility for any theft or lost that may occur. Please manage your belongings with care.
4.There is a danger that glasses may fall off while climbing. Please use strap or band to secure glasses while climbing. (Illustration B)
5. Please check your pockets before climbing ensure that there are no objects which ay fall them.
6.Please change into clothes suitable for exercise and warm-up properly be fore climbing.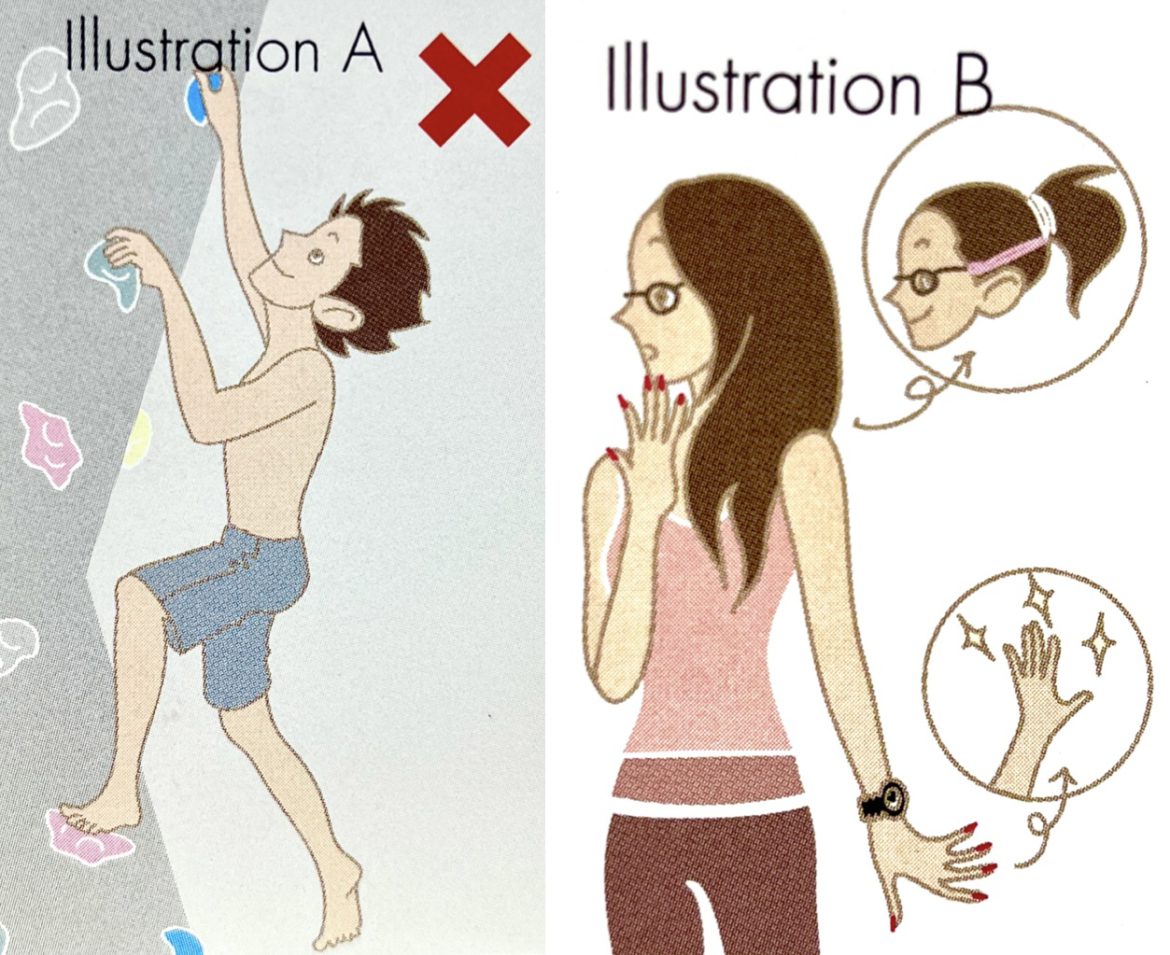 Beware of falling objects
1.In the climbing areas, there is a serious risk of severe injury from climbers or objects falling and colliding with you from above. At all items, for your safety, please ensure you observe above around you.
Holds are affixed by bolts, but please keep in mind that in rare cases these holds may break or spin. Please remain conscious of this danger at all items and should you find a hold which is either damaged or loose, please report this to a staff member immediately.
Should a hold fall above and directly hit someone's head, there is a danger of serious injury. A hold striking the ground may result in the hold breaking and the fragments flying upward. Should a climber or any objects a climber is carrying fall, there is similar risk of injury.
While in a climbing area, take care and avoid entering the areas beneath at all items.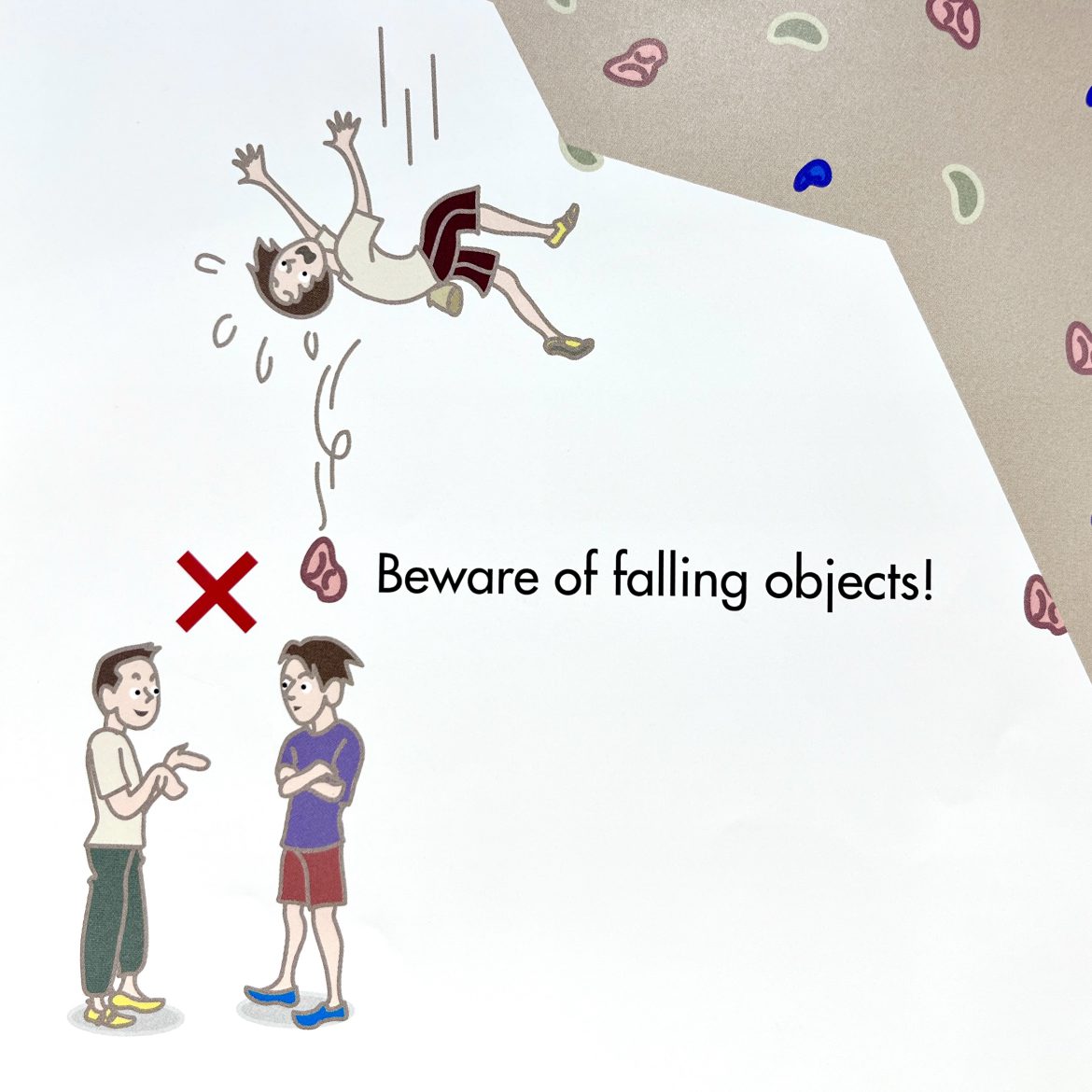 Rules and etiquette
1.Do not enter the area beneath a climber. Should a climber fall, both the climber and the person below may be seriously injured. For this reason, sitting on the mats in the climbing area is dangerous and should be avoided in narrow areas or where climbers may fall. Please rest or wait outside these areas or off the mats.
2.Before climbing check that the line you will climb will not cross that of another climbers. On top of the danger of colliding and falling, you may prevent someone from reaching their climbing goal. A common cause of problems between climbers.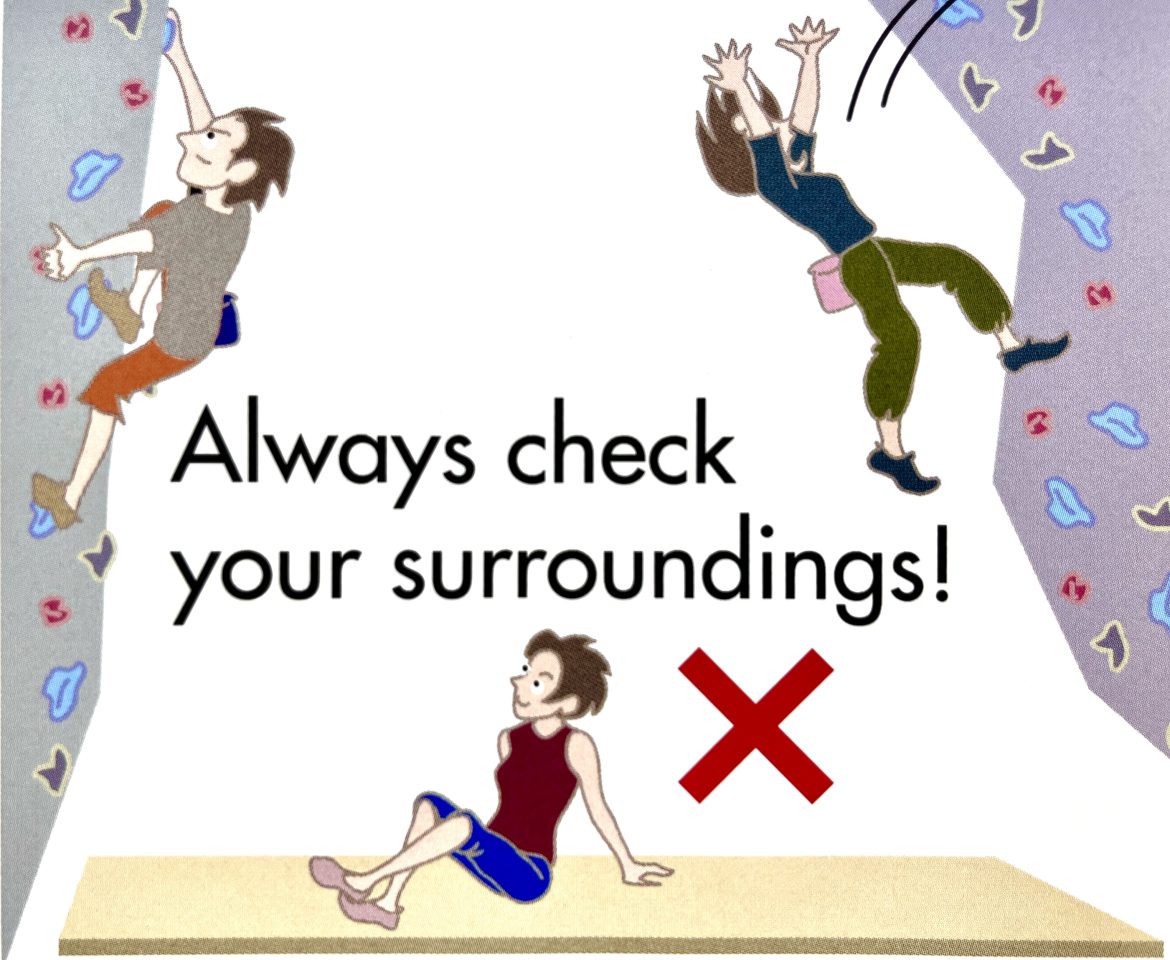 3.Please be considerate to other climbers and di nit spend excessive time on the same climb, particularly when others are waiting. At certain times, PUMP will operate schools and training sessions in certain areas of the gym. We ask for your understanding and cooperation during these times.
4.When the gym is crowded, please avoid trying the longer problems(these are marked by arrows and numbering). these route traverse large sections of the gym, so please be sure to check the walls and people around you both before and while climbing.
5.Please be careful when passing through the climbing tunnels. As climbers on the other side cannot see you and may fall, please check above you before walking through tunnels(arches).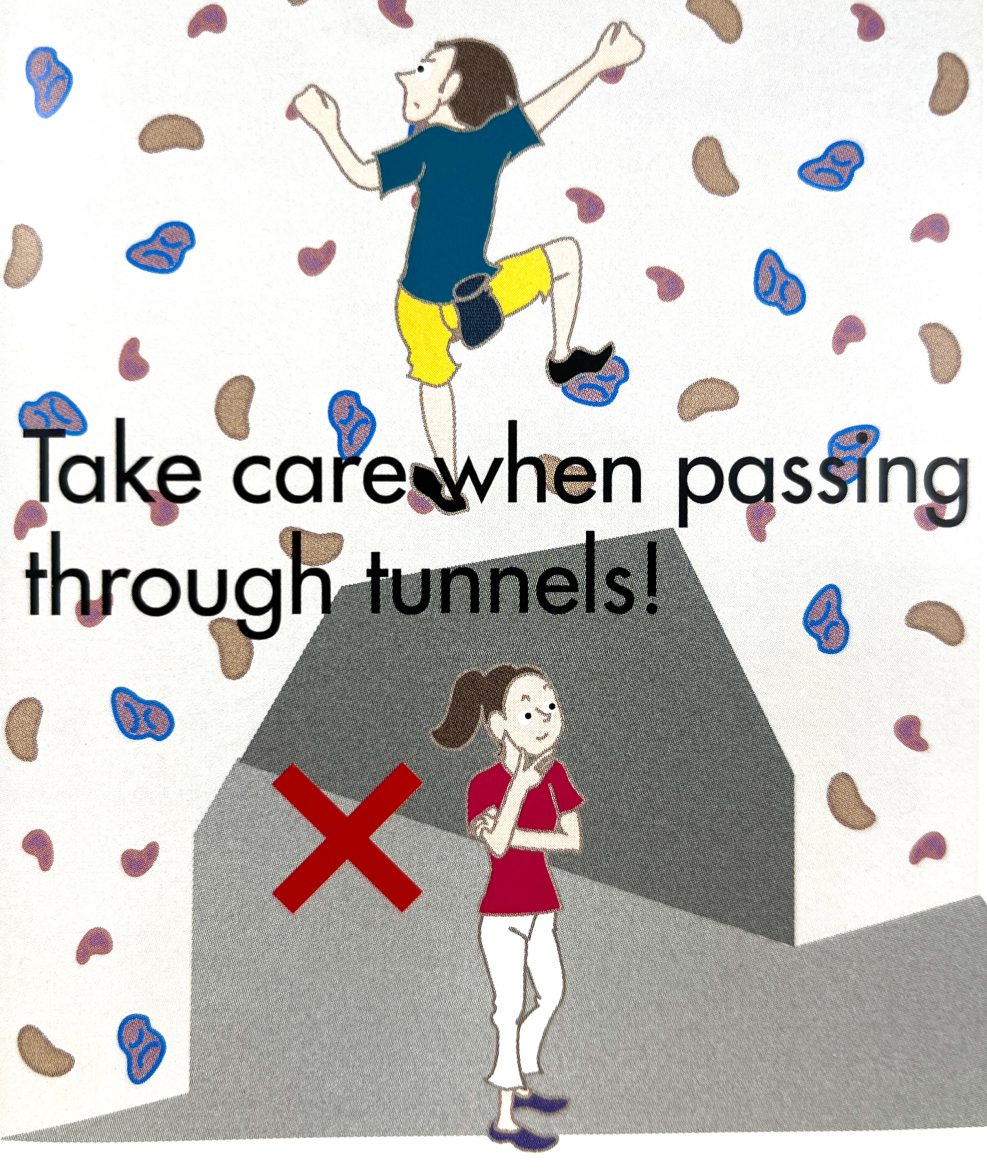 6.Always observe your surroundings. Where walls face each other etc., climbers can also fall from behind you. Please be sure to check in front of you as well as around and behind you at all times.
7.Please do not grab edges (for example, the top of the wall) unless indicated as a goal. Doing so is dangerous as there may be screws etc. which stick out.
8.Please do not boulder in a fashion that is dangerous, and caution others if you see a potential risk of injury. Boulder problems which are largely outside of matted areas etc. are considered dangerous.
Landing when you fall
1.Always land on your feet. When you fall or descend from a climb, be sure to land on your feet and lesson the impact by bending your knees. Landing sideways or with straight legs can cause injury.
2.Please avoid dropping directly from the top of boulder problems. Many people have injured knees and backs as a result of jumping from too high, so if possible, please climb down to a lower and safer level before jumping off.
3.Before descending, please check careful that there are no people or objects(eg. brushes-poles) where you will land.
4.Between mats and walls, there are places where there may be gaps. Please take care not to fall in such places as there is a risk of injury.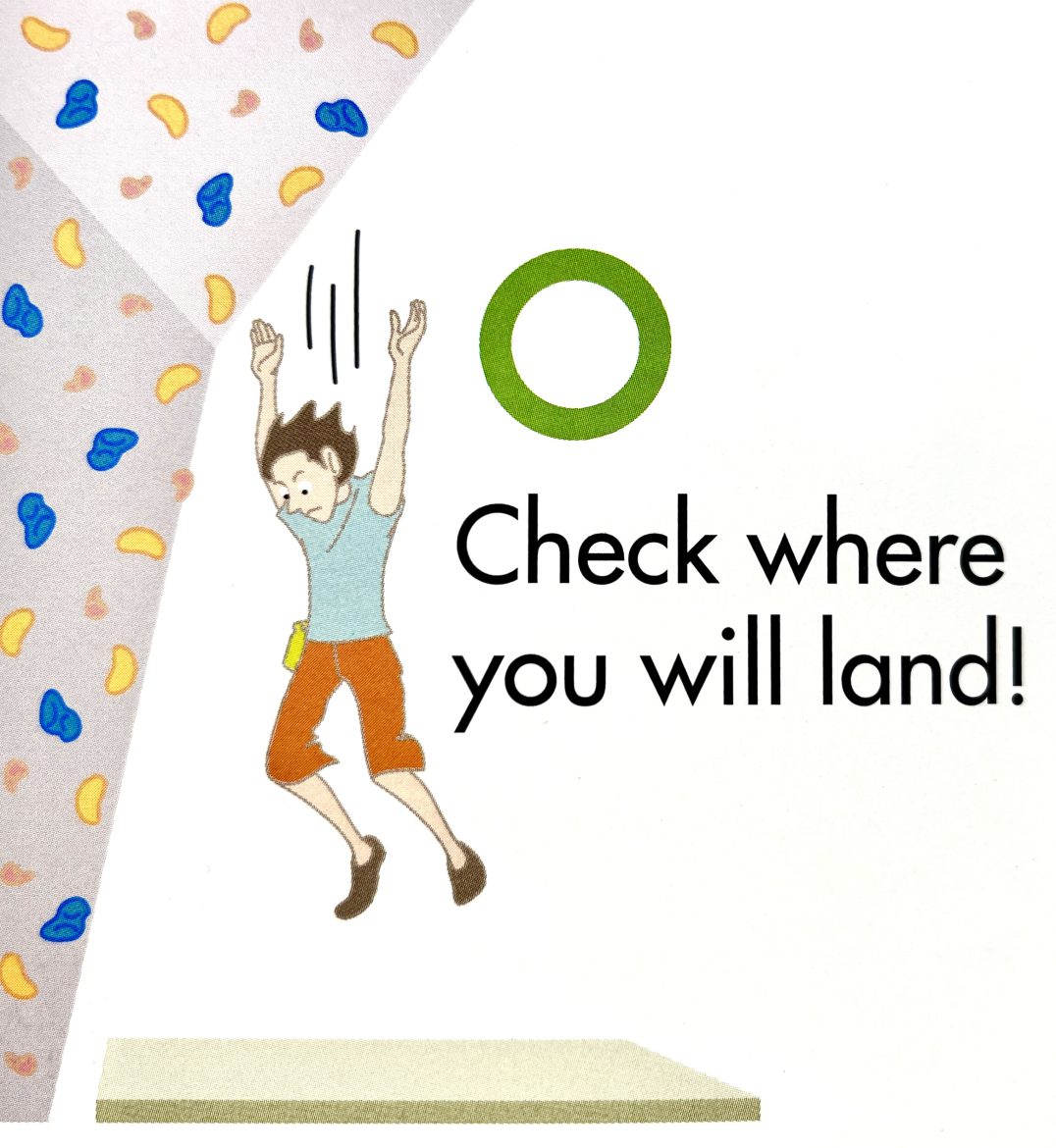 For parents of children
1.Please do not allow children to run, make a lot of noise or play on the mattes areas. This behavior will not only upset other climbers, but could also result in a serious accident through direct contact with falling climbers.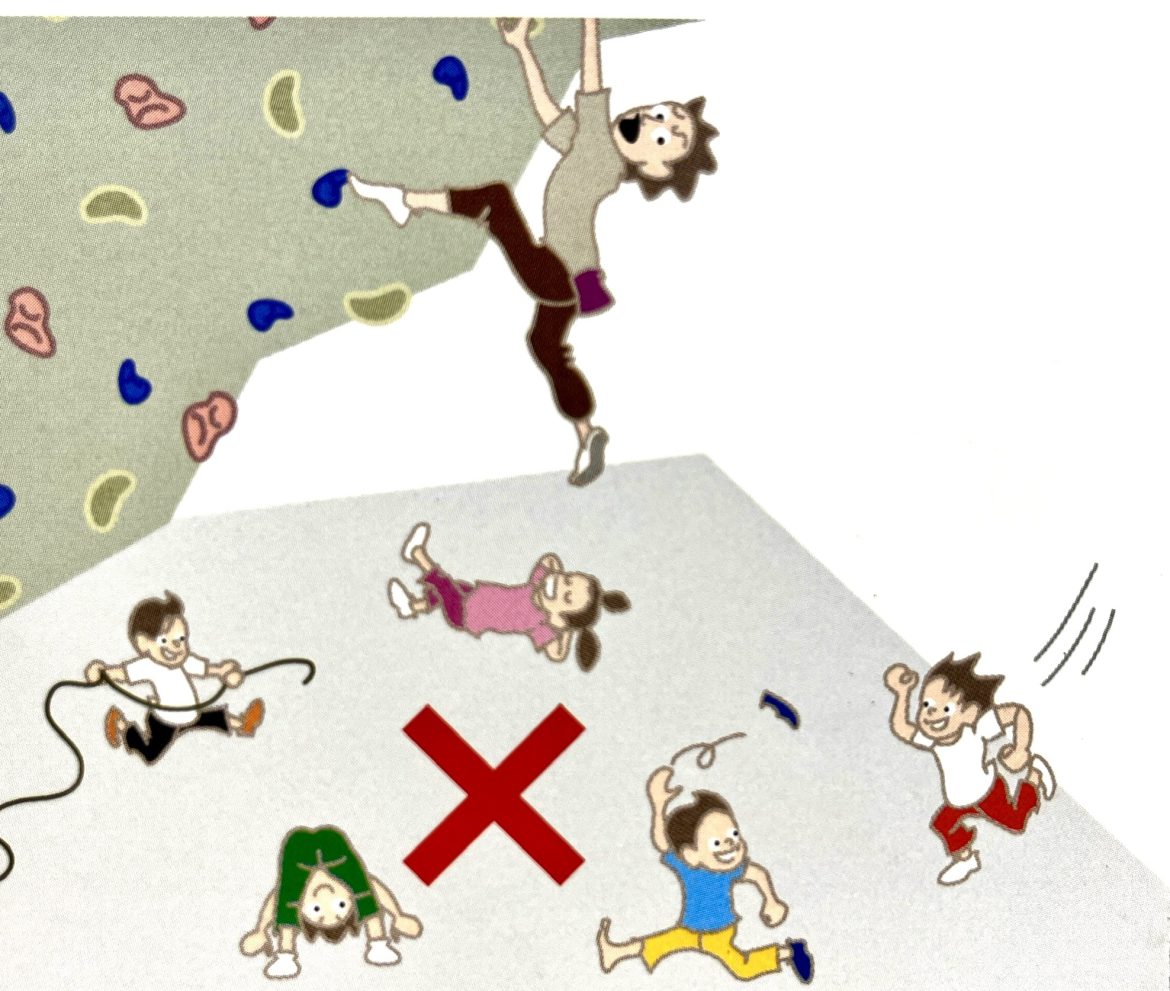 2.Please watch your children at all times. If accompanied by more than one child please allow them to climb in one place only and one by one.
3.In higher areas where the child may fall or land, please provide support by raising arms to assist them to climb and land safety. Please do not allow your children to climb or land when they are scared or otherwise uncomfortable. When spotting (providing support in case of a fall), it is necessary to watch the climber at all times.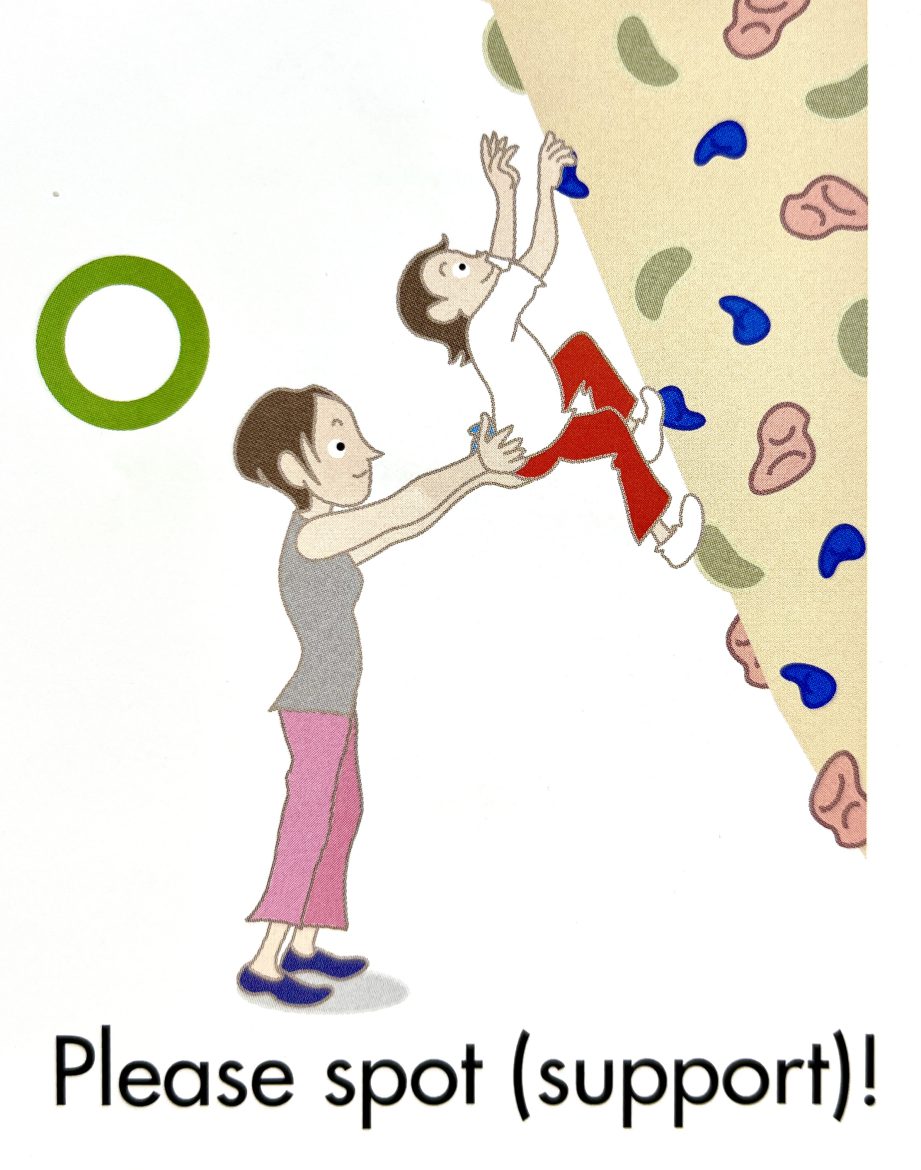 This gym safety and rule pamphlet is revised as of April 1st, 2008. Please note these rule and safety regulations may change without notice. When change occur, we will post them on website.